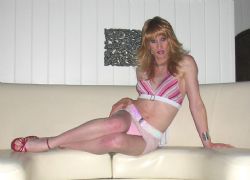 MEMBER PHOTO GALLERY
TSBrandi Has No Photo Gallery
LIFESTYLE FETISHES
Anal Sex
Cock & Ball Teasing
Crossdressing
Cum Play
Degradation
Dildos/Vibrators
Domination/Submission
Facials
Feminization
Foot Fetish
Gangbangs
Golden Showers
High Heels
Kissing
Lingerie
Master/Slave
Masturbation
Oral Sex
Panty Fetish
Pantyhose/Stockings
Rimming
Role Playing
Shemales
Sissification
Spanking/Paddling
Strap-Ons
Transexuals
Transgenders
Transsexuals
Transvestites

Sexy, Innocent, T-girl finally getting Out!
STANDARD MEMBER
I AM A: 36 year old Shemale, Crossdresser, Transgender, Transexual from Phoenix, AZ
SEEKING: Anything & Everything
WITH A: Shemale, Crossdresser, Transsexual, Man, Woman
Active during the past 3 days
ABOUT ME
I hope to some day be full time without having the final surgery. My goal is to be as femminine and womanly and passable as I can possibly be. I am slowly working towards that goal and have been on HRT for several years in some degree or another, very regularly for the last 7 months. I have just a hint of breast growth with noticebly enlarged and sensitive nipples. If it were not for finances I would have started laser treatments to remove all my unwanted hair, but as it stands I am just in the process of saving to get that done. Not being able to do that is driving me crazy. I am certainly ready to explore many things with the right individual and will be curious to see the responses from this site.
MY IDEAL PERSON
My ideal person would be a very sexy, femminine TG like myself who plans on doing everything possible to become the perfect woman, without having the final surgery. I would also Love to meet a GG that was truly comfortable with the lifestyle and encourage
PERSONAL INFORMATION
| | | |
| --- | --- | --- |
| Gender: | Shemale, Crossdresser, Transgender, Transexual | |
| Sexual Orientation: | Bi-sexual | |
| Height: | 5 feet 10 inches | |
| Weight: | 131 to 140 lbs | |
| Race: | Caucasian | |
| Body Type: | Athletic | |
| Hair Color: | Brown | |
| Hair Length: | Prefer Not To Say | |
| Body Hair: | Shaved | |
| Facial Hair: | Prefer Not To Say | |
| Eye Color: | Blue | |
| Eye Correction: | None | |
| Body Decorations: | Prefer Not To Say | |
| Smoking Habits: | I Do Not Smoke | |
| Drinking Habits: | I Drink Socially | |
| Drug Habits: | Prefer Not To Say | |
| Marital Status: | Divorced | |
| Occupation: | Prefer Not To Say | |
| Education: | Prefer Not To Say | |
| Political Views: | Prefer Not To Say | |
| Religion: | Prefer Not To Say | |
| Endowment: | Long | |
| Circumcised: | Yes | |
| Cup Size: | n/a | |
| Role Type: | Prefer Not To Say | |